moe.down 2011 (Review)

moe.down 2011 at Gelston Castle, Review
A Look Back at the 2011 moe.down Concert in Mohawk, NY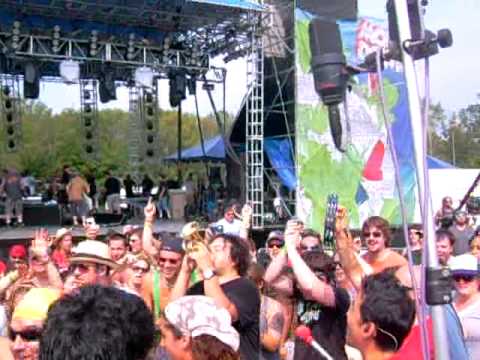 Video: Ozomatli down in the crowd at moe.down 2011.
Over Labor Day weekend, at Gelston Castle in Mohawk, NY, the jam band moe. held its 12th annual moe.down concert. The three day concert festival not only featured five sets by the host band, but also sets by an array of seasoned acts (Bob Weir from The Grateful Dead, Levon Helm from The Band) to contemporary alternative bands (TV on the Radio, Slightly Stoopid, Ween) to up-and-comers (Gary Clark, Jr.) and the hard to categorize (Ozomatli). Despite the weather (a tornado crossed the Thruway at the Mohawk rest area and in Amsterdam) and the unyielding terrain, the bands, and ultimately the festival, did not disappoint. A concert festival is more than the music though. It is a complex set of experiences.
A week before the festival, Hurricane Irene bore down on the east coast causing record flooding. The Thruway was closed until just a day or two before the festival (creating some fear about whether the it would come off at all). On top of that, those of us who went to the moe.down xi – the first year at Gelston Castle—were concerned about the special ground rules for Gelston: no car camping, all gear has to be hauled uphill (both in to the campsites and afterward back out to the cars in an Escher-esque twist on physics), security checkpoints between the car and the camping area, handicap accessibility promises that are under-delivered, etc. So what to do? We made plans. We organized. We took stock of our situations and devised schemes to better them. We also threw ourselves into the campaign for a plastic toy screaming chicken to win the mayoral election for moe.ville (one of the peculiarities of moe.down is the election of a mayor of the festival grounds—in 2010, the winner was Rage Lincoln, who delivered the Headys-burg address). In organizing, we set up a facebook group of about 20 people who were interested in camping together, our idea being that there is strength in numbers.
We gathered together in Utica, at a Red Roof Inn the night before the festival. Although the gates were announced to open at noon, we were let in at 9am (raising the question – when do the gates REALLY open?). The plan was to gather up and get to the event early. Of our group, two people, Kate and Kat, had handicapped parking credentials and a need for shuttle access, both from parking to the campsite and from drop-off areas to the concert area by the stage. We also decided that the people driving in with the handicapped people should try to get in as quick as they can to secure the best campsite for our group's needs.
In the morning we gathered up  at Dunkin Donuts for coffee and then a gas station for what was the first breakfast pizza I have ever seen or eaten (why someone who had difficulties not only with digesting breakfast, but with digesting wheat/gluten decides to eat breakfast pizza is beyond me and also completely within me). We made it from Utica to the gates and immediately, one of the cars from our party got stuck momentarily in a mud bog left over from Hurricane Irene. It wasn't a long time that Pete was stuck in the mud, but it left us with a feeling of oh-crap-if-we're-getting-stuck-at-the-beginning-before-the-gates-are-even-open-what-is-it-going-to-be-like-at-the-end-of-this-festy. A little shock of dread. Soon to be smoked out and drowned. Take that dread!
We got inside and then online waiting for what Chris had earlier described as the fascist checkpoint. No matter how you load up your cart (you have to cart your gear from the car to the camping areas and the bigger the cart the better), it will need to be re-packed after security rifles through your frilly under-things. And rifling is a long process. And everyone has to go through it. I went through it five times that first day. Kate and Kat got an awful lot of gear through the fascist checkpoint on a shuttle. Kate left her wallet in the car though so on trip number two through checkpoint moe.down, I was trusting a wagon load of gear with some people I had been talking to for 3 minutes. Kate needed her wallet because they would not allow her to bring her prescription medication into the campground without identification. So I ran back to the car and then ran to the checkpoint with her id. And then the cart was still there with all the gear, which included my medication. Did I mention a lot of us have chronic disease?
Ultimately, Lynn found a good campsite–pretty level and not on the corner of anything. The year prior, we camped in what became "Shakedown Street." There is a big problem at music festivals with nitrous oxide (aka hippie crack). At moe.down xii I didn't see any evidence of nitrous. We set up the camp with a large communal area in the center with the tents arranged out on the perimeter. There are all sorts of tricks to arranging the campsite to minimize people walking through (and by walking through I mean collapsing on your tent or urinating or puking on it for that matter). Put them close together. Use lots of guy-lines with warning tape tied every foot or so. Another is a tent set up with no one in it (or in our case, our own personal port-a-john). This is especially helpful to have set up if a windy rainstorm storm tears down your fancy bigger and newer tent. Which is what happened to us. Thank jeebus for the poop tent!
The camping area was probably ¼ or ½ mile away from the concert area. To get to see the concert one has to walk up a pretty sizable hill and then walk down another one. (This ridge also makes it really hard to hear the music in the camping area. Even harder still when a bunch of campers decide that there should be Grateful Dead songs to fill the air.) Ringing the top of the hills surrounding the stage area were many vendors. Our favorite was the fresh roasted coffee and mini donut place: Dave & Dani's. Most of the vendors are the standard set that you see at music festivals, fairs and various summer outings, but with a little nod to the alternative crowd (that is to say there is a falafel vendor).
Because of the terrain we all had to make decisions about who they would stay up top for and who they would go down to concert level for. I took a video of Ozomatli where they got down into the crowd. When Lynn saw it she said, I wish I could have gone down to see them. It is a strange trade-off but not uncommon to music festivals. Usually the question is about competing interests instead of the actual terrain, though.
I can't say enough good things about the people we camped with. It is really the people more than anything else that makes moe.down so special for us. We camp with people who come from all over doing their things so well and then are just so silly and fun in the instant community of this Labor Day weekend camp. Last year was the first year that Joy, Kate and I met Hern, Reno, C4D, Heidi, Matt, Lynn and the gang. Since then, we have communicated through Facebook. So this year's camping trip was also a bit of a Facebook reunion. Although we should have learned a lot from last year, there are some definite lessons to learn this year.
1. You don't need to account for every calorie when packing for a festy. There is something in the most reptilian part of my brain that can't get this. Instead, I think I not only have to do this for me but also must have enough to share with everyone in the group. As if anyone wants the comically fictional flavors of the off-branded gogurt-like substance I was miserable eating. Future me: please don't pack a lot of food for next year. I think I may be permanently scarred from Mr. Hand making Jeff Spicoli share his pizza with the class.
2. Always bring duct tape. If not for emergency fixes, it can always be used to muzzle a wookie who is screaming from his k-hole.
3. Having your own private bathroom for a festival is awesome. There is nothing quite as awful as a port-a-john at a music festival that has fallen victim to a bunch of wookies. They can get unbelievably filthy. Having your own private privy is an investment in good mental health.
4. Leave stuff back at the car. Really all that should need to be loaded in is the tent and tarps. And speaking of tarps, they are so much better for camping than the EZ Up we brought (and left). And tarps take up less room. When we replace the EZ up it will be done with tarps and poles. Food & beverage can be brought in as needed. Plus the car is going to be a lot more secure than a tent (even if you have a tent lock—I mean, really, what kind of protection is that tent lock offering you anyway?).
5. Get ice at the festy. It was $7 for a 20# bag of ice. It was $5 for 14# of ice prior to the festy. That's not much difference, particularly if you are going to be hauling all that weight through a fascist checkpoint.
6. Figure out a good dry clothing strategy. Pack clothes day by day, maybe in different bags. Some people say, just change your clothes at your car. Personally, I am not coordinated enough to get dressed in a 2-person tent. Leaving an extra pair of shoes at the car can be nice if things get nasty and muddy.
7. If moe.down is at Gelston next year, then plan on going down to the concert level each time. Being up at the top is sort of like watching a concert on tv. If I can't feel the beat, it just isn't the same. I spent just about as much energy at the top level without getting the fun. There was a rumor going around that it will be moving back to Turin, NY.
8. Minimize the number of appliances. All we ever heated up was hot dogs and water for coffee or tea. As a group, we certainly had more gear than we needed. Also if one person is bringing a burner, then other people won't need to. The good plan next year may be to say what is being brought ahead of time and not bother duplicating anything.
9. Start a packing list and stick to it. If an item doesn't make sense that is on the packing list take it off and don't bring it. I've been operating from the same dumb packing list for a few years and I have a bunch of things on it that I know I don't need.
10. Run a better campaign for Screaming Chicken.  I had purchased labels that we were going to put on condoms to distribute at the concert (there is one set of moe. where the mayor gets elected).  At the very least, I should go to that particular set to vote.
So how do we handle our afterglow? Our tent is still hanging on the clothes line steeped in the remnants of another tropical depression and our dog Comet got sprayed by a skunk. How long until next Labor Day?
–Ben Lapham is a Contributor to The Free George. (Photos and video by Ben Lapham)
The Free George is the online magazine and visitors' guide of Upstate NY, covering things from Albany to Lake Placid, including Saratoga, the Lake George region and the Adirondacks. Check out our new City Blogs section for our extended coverage areas as well.
Short URL: http://thefreegeorge.com/thefreegeorge/?p=14794