Police Power and the Arrest of Jonas Correia: Northampton Blog

A Public Arrest in Northampton Questions Police Brutality
Police Brutality and Racial Profiling in Northampton
Northampton considers itself a bastion of freedom. It is the "Happy Valley" land of peaceful people. This is because it is a liberal city where people of all orientations are for the most part treated with kindness as long as they act with kindness. It is a city that prides itself (sometimes smugly) on its acceptance for people of all religions, racial orientations, sexual orientations, etc. But how much of that ethical configuration is based on reality and how much of it will peel away when held to the light of intense scrutiny? It is a question surely worth asking as sometimes this place feels as if it participates in more talking than listening and more styling than reflection. Now is the time to ask that question, coming on the heels of Jonas Correia's arrest, which occurred outside of local bar Tully O'Reilly's. The incident was video-taped by a Northampton local and posted on YouTube, (it appears at the end of this article) creating a raging debate that revolves around two questions:
1) Did the officer who pinned the twenty-six year old male to the ground react excessively to his counterpart and 2) Was the action taken against him the result of a racist ideology that is pervasive within the Northampton Police Department?
I will not claim to know the answer to either question, but what I do know is that the role of technology in this case is integral to the reason that we are even debating these questions. Police departments are not required to video record their arrest procedures, and maintain sole possession over the rights to the footage that they do capture. Also, they have the ability to turn on and off the recording devices whenever they please. This leads to an unfair advantage on the behalf of the police department, which is at the crux of the issues within the justice system; how does one argue his innocence when he has no proof to present to a jury other than his testimonial, whose credibility is tarnished by the very fact of the citizen's arrest? This lack of an evidential safeguard is why some citizens fear the police, and why most police officers detest being filmed as it strips them of their main power: anonymity of action. Around these two realities sways the issue of how to manage a system that has two sides (enraged citizens and hard-pressed police) in disagreement.
On one hand, it is lucky for Mr. Correia that he was not the only one employing a cell phone as a video recording device. And ironically, on the other hand, it was probably his filming of the police scene that prompted his being pinned, pepper-sprayed, and arrested. After all, the police had not arrived to deal with him, but instead to help remove another man who police allege refused to leave the bar after punching a bar employee in the neck. Mr. Correia was simply filming the interaction that took place on the sidewalk outside of the bar. In the video posted online, it appears as if the man was simply standing there before being seized upon, whereas the police claim that they grabbed his arm to stop him from swinging it, and then that he resisted, and that only then did they arrest him. In the police department's guidelines, officers are allowed to react to a "perceived threat" and subdue it, which leaves much gray area regarding what consists of a threat. In this case, the police claim that the individual took a "fighting stance," and that this was what led them to react as they did.
But the crowd that surrounded the scene as it occurred was large. I was driving a taxicab as it happened, coasting back and forth as discretely as I could along Pearl Street. As you can hear in the video, there are many complaints from observers, including from the camera-woman herself who claims herself an attorney, and maintains that the sidewalk is public space in response to the bouncers request that she move away. One of the main chants is from a black female on the sidelines who shouts: "You are so racist!" First of all, police do have the right to order people off of a sidewalk if it is interfering with the scene of a crime, but funnily enough the bouncer did not know this and so he left the videotaping female alone. And second of all, it is very easy and also understandable for a black viewer to view the scene with empathic outrage, fuelled by what happened to Rodney King, and countless images of police brutality against African Americans. It is what I would call a knee-jerk reaction for her and others to assume that what might have been excessive force was the product of racist ideals. I say this with the twinge in my gut that reeks of naiveté, as I am a white male, but hey: that is how I feel.
And there is a specific reason that I feel this way. It is because a very similar thing happened to me two years ago at the very same bar, a place whose security is riddled with a cowboy's mentality for aggression, and with whom the police receive first report. At that time, I was ordered to leave based on a trespassing warrant against me from the week before; at the time I was feisty and far from sober, but the trespassing warrant from the week previous hadn't ever been given to me so I did not know it even existed. I had been kicked out the week before for having crossed through the door that separates Tully O'Reilly's from The Elevens, something that at the time I didn't know was illegal, something which would only have required them telling me so, something which hadn't required them hoisting me up and carrying me to the front door where I was ejected from the premises like a sadly embarrassed rag doll. The next week when I returned the bartender noticed me as the man who had been ejected the week before, and she had called the police. They had asked me to step outside, and when they told me that I couldn't be there I said in a regrettably huffy voice, "Fine, I'll leave then." As soon as I walked away, they slammed me to the ground, handcuffed me, and pepper-sprayed me. I was carried away to a police car, screaming, "Does anyone see this?!" But it was a Monday night and there was a scant crowd on the sidewalk as it was still relatively early. No one had filmed it. I was not given publicity for it, other than an article that read: "Local Boy Causes Fracas" along its headline.
I hope that in revealing that embarrassing story about myself that I have added to context of evidence that would support higher surveillance of police activity. When I hear the shouts of Jonas Correia as he says: "I didn't do anything!" I am reminded of my own sobering moment with the police. I am not one who wants to blame all police officers for this encounter or label them as a racist group; that is too easy. I am one who thinks that it is dangerous to give one group of armed individuals the absolute autonomy to operate as they individually see fit. I am one who knows that unchecked power is dangerous because it can engender bad behavior of all types: racist, sexist, ageist, and so on. Again, that is my opinion, and it is formed on actual experience with police abuse, but of course go ahead and form your own by watching the video tape yourself, which attempts to capture an issue too complicated for one single arrest to summarize.
You can click below to watch the video of Jonas Correia's arrest: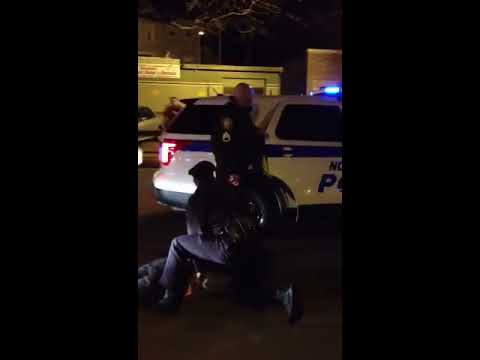 –Ezra Prior is a Contributor to The Free George. Photos courtesy of YouTube.
The Free George is the online magazine and visitors' guide of Upstate NY, covering things from Albany to Lake Placid, including Saratoga, the Lake George region and the Adirondacks. Check out our City Blogs section for our extended coverage areas as well.
Short URL: http://thefreegeorge.com/thefreegeorge/?p=18212